Press Release  
For Immediate Release
July 24, 2018
Contact: Trinity Foreman
508-228-9198
tforeman@mariamitchell.org  
Artist Cindy Pease Roe To Hold "Up-Cycling" Workshops at the  
Nantucket Maria Mitchell Association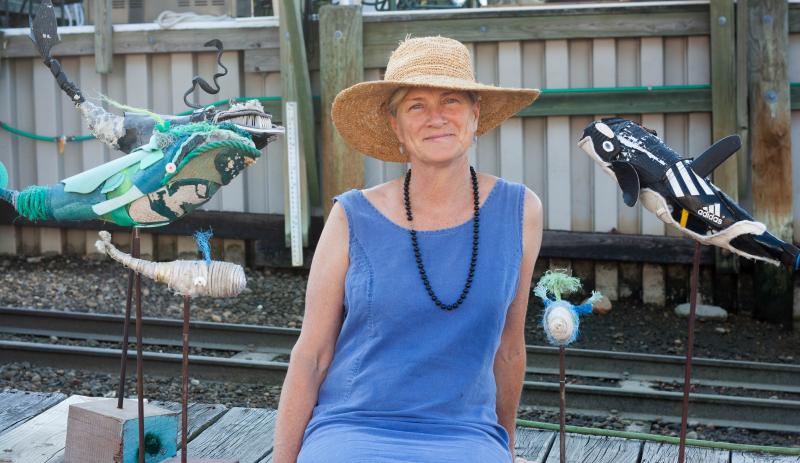 Nantucket, MA – The Nantucket Maria Mitchell Association has teamed up with the Nantucket Artists Association to bring artist Cindy Pease Roe to Nantucket. She will be holding three workshops in which participants can create their own art with plastic debris collected from the ocean and beaches. Pease Roe has combined her passion for art with her passion for protecting marine life and uses sculpture to discuss and illuminate the negative impact of plastic waste on the ocean and sealife. Plastic waste in the ocean's ecosystem is harmful to humans who consume micro plastics found in fish, as well as over one hundred thousand marine animals that are killed by this pollution every year.  
On Wednesday, August 15, there will be a workshop to create upcycled whale sculptures. It will be held at 33 Washington Street from 9:30-11:30am and is for anyone ages 6 and up; children must be accompanied by an adult. The cost for adults is $85 for MMA Members and $100 for Non-Members. For children it is $75 for Members and $90 for Non-Members.  
"Wine and Mobiles" with Cindy Pease Roe will be held twice this summer. The first event will be held on Thursday, August 9 from 6:30-8:00pm at the Artists Association of Nantucket located at 24 Amelia Drive. The second event will be held on Thursday, August 16 from 5:30-7:00pm at the MMA's property located at 33 Washington Street. . Pre-registration is required for both these events.
Pease Roe uses plastics from the ocean to create her whale sculptures and other forms of art to spread awareness about the invasion of plastics in the ocean. Through the workshops, participants will be able to create their own art, learn more about the prevailing issue of plastics in the ocean, and leave with their own art and new knowledge with the hope that they will continue spreading the word about the problem to others. Pease Roe has held popular art workshops on Nantucket in the past.  They have been well-received and eye-opening for the participants which prompted the Maria Mitchell Association to make sure to include more of these events on its schedule for this summer.
The Maria Mitchell Association is a private non-profit organization. Founded in 1902, the MMA works to preserve the legacy of Nantucket native astronomer, naturalist, librarian, and educator, Maria Mitchell. The Maria Mitchell Association operates two observatories, a natural science museum, an aquarium, a newly opened research center, and preserves the historic birthplace of Maria Mitchell. A wide variety of science and history-related programming is offered throughout the year for people of all ages. This year celebrates Mitchell's 200th birthday with special lectures, events, classes, and exhibits all year-long, culminating in the Maria Mitchell Women in Science Symposium in October 2018 in Boston.